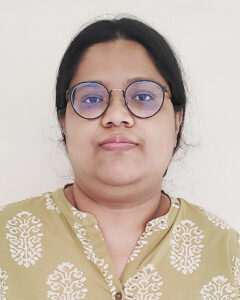 Name: Anwesha Chattopadhyay
Area of Research: Theoretical Condensed Matter Physics
Contact address:
91-33-2654-9999,
Link to personal webpage:
Education and Employment: 
Faculty (2022-present): RKMVERI
National Post Doctoral Fellow (NPDF) and Research Associate-I (2021-2022) : Indian Association for the Cultivation of Science
PhD (2016-2021): Saha Institute of Nuclear Physics, Kolkata
M. Sc. (2014-2016) : RKMVERI
Junior Scholar (2013) : Tata Institute of Fundamental Research, Mumbai
B. Sc. (2010-2013): Jadavpur University
Awards:
Best Post M.Sc. Student (Theoretical Physics) award and A P Patra Memorial Award (2017), Saha Institute of Nuclear Physics, Kolkata, India.

Gold medal and topper's prize for standing 1st in M.Sc. examination (2016), Ramakrishna Mission Vivekananda Educational and Research Institute, Howrah, India.

Awarded Department of Science and Technology (DST) INSPIRE scholarship during 2010-13.
Some significant Publications
Interplay of mass imbalance and frustration in correlated band insulators Anwesha Chattopadhyay, Phys. Rev. B 103, 045125 (2021)

Unconventional superconductivity in a strongly correlated band-insulator without doping Anwesha Chattopadhyay, H. R. Krishnamurthy, and Arti Garg, SciPost Phys. Core 4, 009 (2021)

Phase diagram of the half-filled ionic Hubbard model in the limit of strong correlations

Anwesha Chattopadhyay, Soumen Bag, H. R. Krishnamurthy, and Arti Garg, Phys. Rev. B 99, 155127 (2019)

Gutzwiller projection for exclusion of holes: Application to strongly correlated ionic Hubbard model and binary alloys




Anwesha Chattopadhyay and Arti Garg, Phys. Rev. B 97, 245114 (2018)
Research Interests
I am predominantly interested in the physics of strong correlation. I deal with the Hubbard model and it's simple extensions like ionic Hubbard model where as a result of competing insulating tendencies, exotic phases like unconventional superconducting phases emerge. I have expertise in developing formalism for treating strong correlations in presence of inhomogeneities. I have worked with mass imbalanced models where magnetically ordered exotic rare phases like ferrimagnetic metal, spin imbalanced ferromagnetic metal emerge. Presently, I am interested in the physics of constrained models (similar to PXP model) in two dimensions which show strong Hilbert space fragmentation. I am also interested in the physics of superconducting hybrid structures.