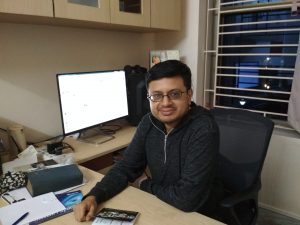 Name: Shamik Gupta
Area of Research: Statistical Physics, Non-linear Dynamics
Contact address:
91-33-2654-9999,
Link to personal webpage: https://sites.google.com/site/shamikguptaphysics/
Education and Employment:
Faculty (2016-Present): RKMVERI
Visiting Scientist (2015-2016): Max Planck Institute for the Physics of Complex Systems, Dresden, Germany
Visiting Scientist (2014-2015): University of Florence, Florence, Italy
Postdoctoral Scholar (2012-2014): Université Paris-Sud, Paris, France
Postdoctoral Scholar (2011-2012): École normale supérieure de Lyon, Lyon, France
Postdoctoral Scholar (2008-2011): Weizmann Institute of Science, Rehovot, Israel
Ph. D. (2008): Tata Institute of Fundamental Research, Mumbai, India
M.Sc. (Physics, First Class First)(2002): University of Calcutta, Kolkata, India
B.Sc. (Physics Hons., First Class First) (2000): Presidency College, Kolkata, India
Selected Recent Publications
Critical exponents in mean-field classical spin models, Yoshiyuki Y Yamaguchi, Debraj Das and Shamik Gupta, Phys. Rev. E 100, 032131 (2019)

Relaxation to equilibrium in models of classical spins with long-range interactions, Debraj Das and Shamik Gupta, J. Stat. Mech.: Theory Exp. 084007 (2019)

Bifurcations in the time-delayed Kuramoto model of coupled oscillators: Exact results, David Métivier and Shamik Gupta, J. Stat. Phys. 176, 279 (2019)

Reconstructing bifurcation behavior of a nonlinear dynamical system by introducing weak noise, Debraj Das, Sayan Roy and Shamik Gupta, Commun Nonlinear Sci Numer Simulat 72, 575 (2019)

Comparison of two models of tethered motion, Luca Giuggioli, Shamik Gupta and Matt Chase, J. Phys. A: Math. Theor. 52, 075001 (2019)

Slow dynamics and subdiffusion in a non-Hamiltonian system with long-range forces, Romain Bachelard, Nicola Piovella and Shamik Gupta, Phys. Rev. E 99, 010104(R) (2019)

Martingale theory for housekeeping heat, Raphael Chetrite, Shamik Gupta, Izaak Neri and Édgar Roldán, EPL 124, 60006 (2018)
Editor's Choice article 

Exact correlations in the nonequilibrium stationary state of the noisy Kuramoto model, Debraj Das and Shamik Gupta, J. Phys. A: Math. Theor. 51, 445003 (2018)

Dynamical origin of non-thermal states in galactic filaments, Pierfrancesco Di Cintio, Shamik Gupta and Lapo Casetti, Mon. Notices Royal Astron. Soc. 475, 1137 (2018)

Spontaneous collective synchronization in the Kuramoto model with additional non-local interactions, Shamik Gupta, J. Phys. A: Math. Theor. 50, 424001 (2017), Special Issue "Emerging Talents"

Path-integral formalism for stochastic resetting: Exactly solved examples and shortchuts to confinement, Édgar Roldán and Shamik Gupta, Phys. Rev. E 96, 022130 (2017)

Out-of-equilibrium fluctuations in stochastic long-range interacting systems, Shamik Gupta, Thierry Dauxois and Stefano Ruffo, EPL 113, 60008 (2016)

Diffusion with stochastic resetting at power-law times, Apoorva Nagar and Shamik Gupta, Phys. Rev. E 93, 060102(R) (2016)
Complete list of publications available at
https://sites.google.com/site/shamikguptaphysics/research/publications
Research Interests
My field of research is Statistical Physics and Nonlinear Dynamics. A system of a large number of interacting particles often displays a variety of emergent phenomena that are qualitatively different from the behavior of a single or a few particles. Prominent examples are magnetism, spontaneous synchronization (think of the pacemaker cells of the heart all spontaneously sending out synchronized electrical signals to contract the heart), etc. In such systems, the behavior often changes suddenly and dramatically as external tuning parameters like temperature, magnetic field, etc. are varied. Statistical mechanics provides the right (and the only) framework to understand and predict the static and dynamic properties of these systems.
Over the years, I have worked on a wide spectrum of topics in statistical physics and nonlinear dynamics: stochastic processes, fluctuation theorems, quantum dynamics, synchronization phenomena, and long-range interacting systems on which I have worked extensively. Applications of my work have been to areas such as astrophysical, condensed matter and biological systems. An underlying theme of my work is characterization of statics and dynamics of complex systems and study of how long-range interactions and/or correlations lead to emergent behaviors in such systems.
Research Grant
SERB, Department of Science and Technology, Govt. of India
Project Title: Rare events in synchronizing systems
Project Value: 15 Lacs for 3 years (2019-2022)

Current PhD students:
Debraj Das
Visiting Summer Internship Students:
Sayan Roy (IISER, Bhopal; May — July, 2018)
Tanmoy Biswas (IISER, Bhopal; May — July, 2019)
Gourav Halder (Integrated Science Education and Research Centre, Visva Bharati University, Shantiniketan; April — May, 2019)