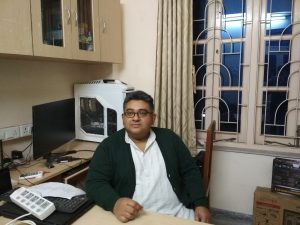 Name: Ashik Iqubal
Area of Research: Applied Computational Physics, String Theory
Contact address:
91-33-2654-9999,
Link to personal webpage:
Education and Employment:
Faculty (2009-Present): RKMVERI
(Part-time) Physics Lecturer (2008): Guildford College, Surrey, UK
Ph. D. (2007): Tata Institute of Fundamental Research, Mumbai, India
M.Sc. (Physics,First Class)(2000): University of Calcutta, Kolkata, India
B.Sc. (Physics Hons.,First Class)(1998): Presidency College, Kolkata, India
5 Recent Publications
Spinning strings as small black rings, Atish Dabholkar, Norihiro Iizuka, Ashik Iqubal, Ashoke Sen and Masaki Shigemori, JHEP 0704, 017 (2007)

Precision microstate counting of small black rings, Atish Dabholkar, Norihiro Iizuka, Ashik Iqubal and Masaki Shigemori, Phys. Rev. Lett. 96, 071601 (2006)

Off-shell interactions for closed string tachyons, Atish Dabholkar, Ashik Iqubal and Joris Raeymaekers, JHEP 0405, 051 (2004)

Two new sum rules for octet baryon magnetic moments (mu) and constraints on QCD sum rules from new experimental determination of mu-s for the decuplet, Monika Sinha, Ashik Iqubal, Mira Dey and Jishnu Dey, Phys. Lett. B 610, 283 (2005)

Magnetic moment of the Omega- in QCD sum rule (QCDSR), Jishnu Dey, Mira Dey and Ashik Iqubal, Phys. Lett. B 477,125 (2000)
Research Interests
My research interest lies in several interdisciplinary areas between Physics and other sciences, e.g., Robotics/Artificial Intelligence, Sports Science, Agriculture, Medical science, etc. I have worked on several interdisciplinary topics such as: Studying trajectories of different classes of blind persons; Developing facial emotion recognition algorithms, etc.